Professional liability solutions for lawyers
Hanover Lawyers Professional Advantage
Law firms need a professional liability insurance solution that keeps up with the risks they face in today's dynamic business environment. Hanover Lawyers Professional Advantage is designed to meet their evolving needs.
We target a wide range of law firms, from one to 50 attorneys, with an optimal firm size of one to 10 attorneys. For areas of practice, our appetite includes:
Preferred appetite
Preferred appetite
Bankruptcy
Civil/commercial litigation defense
Commercial law/ transactions - less than $1M
Criminal defense representation
Family law - less than $2M
Immigration law
Labor management
Local/municipal government
Mediation and arbitration (other than securities/FINRA)
Residential real estate
Schools/education (no finance)
Social Security/disability/Medicare
Taxation (individual)
Wills, estates, trusts, probate - less than $2M
Workers' compensation
Limited appetite
Limited appetite
Appellate
Banking/financial institutions
Civil/commercial litigation (plaintiff)
Civil rights/discrimination
Commercial law/transactions - $1M or more
Commercial real estate - less than $1M
Construction
Corporate formation
Environmental regulation
ERISA employee benefit plans
Family law - $2M or more
Insurance defense
Personal injury defense
Plaintiff personal injury (automobile, slip and fall, dog bite)
Taxation (corporate)
Wills, estates, trusts, probate - $2M or more
Restricted appetite
Restricted appetite
Admiralty/marine
Class action and mass tort
Copyright/trademark
Collections
Entertainment law
International/foreign law
Labor union representation
Mergers and acquisitions
Oil, gas and mineral rights
Plaintiff litigation (medical malpractice, wrongful death, product liability)
Real estate — commercial, $1M or more
Real estate — foreclosure
Securities
Tax opinions
Hanover Lawyers Professional Advantage is a specialized errors and omissions solution designed to meet the evolving needs of law firms of all sizes, including growing practices.
 
Key coverage
Important coverage and policy features include:
Coverage for professional services provided on behalf of the insured entity, named insured, predecessor firm or nonprofit entity
Privacy and security liability coverage related to mishandling client's personal information, including actions of a rogue employee and violations of customer notification laws
Pre-claim assistance supplemental coverage
Disciplinary proceedings supplemental coverage
Subpoena assistance supplemental coverage
Crisis event supplemental coverage
Nonprofit directors and officers expense supplemental coverage
Loss of earnings
Coverage for remote notarization services included when allowed by the state
Specific client limit endorsement provides the ability to increase the limit of insurance for a specific client
Career coverage endorsement broadens the definition of services to include work performed by the named insured at prior firms
Additional policy features
Claims made and reported
Limits of liability ranging from $100,000 up to $10 million for select firms
Definition of damages includes pre and post judgment interest and punitive and exemplary damages
Deductible reduction for mediation claim settlement
Multiple extended reporting period options, including individual extended reporting period
Supplemental coverage
Our professional liability enhancement endorsement includes nine supplemental coverages:
Canceled conferences
Counseling support
Emergency web hosting
Pet boarding
Real estate emergency consulting
Replacement of key officers
Temporary meeting space
Travel disruption due to terrorism
Workplace violence counseling
Total account solutions
In addition to our professional liability solution, The Hanover can offer coordinated property, casualty and management liability coverage that your clients need to be fully protected, including
Program solutions
We can develop professional liability programs in any segment where you have either an existing book of business or a chance to grow. We work with retail agents, managing general agents and associations to build specific product solutions for all types of homogeneous groups with similar coverage needs, from start-ups and established programs to small, mid-size and large programs and accounts, including expertise in risk purchasing group formation.

Product not available in CA, NY and OR. Contact your regional distribution director for more information.
Hanover Lawyers Professional Advantage protects against the unique risks faced by your clients. Unlock the Hanover advantage.
Specialized standalone coverage
Serves small to mid-sized law firms with a broad array of areas of practice, from criminal defense to residential real estate
Privacy and security liability coverage
Built-in coverage related to the mishandling of clients' personal information
Risk management hotline
Staffed by lawyers and claims professionals
Dedicated claims team
Deep industry expertise and experience within the areas professional negligence, injury-related cases and property damage
HanoverProRisk site
Includes articles on a wide range of topics, sample policies and procedures, sample engagement letters and contracts, and more
Customer service center
Helps agencies improve operational efficiency by servicing lawyers professional liability policies 
Product resources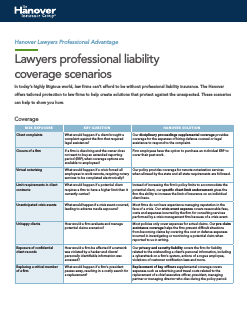 Coverage scenarios
Share this brochure with your clients to help them see how our coverage would respond to a loss event.
Resources for you
Marketing materials
Resources for your customers
Our risk management program includes a risk management hotline and an online portal featuring a variety of articles, sample contracts, risk bulletins and more for lawyers.
See all of our resources for lawyers
Customer tools

Let's start a conversation today
Contact a member of our team who can help you craft professional and executive lines coverage for your clients.