Solutions for contractor's equipment
Contractor's equipment from The Hanover
Construction businesses rely heavily on their tools and equipment. When they're stolen, damaged by vandals, or destroyed by fire, business suffers. In some cases, additional costs may be incurred as a result of repairs or delays. In others, a project may not be completed, damaging reputations and the bottom line. Our contractor's equipment policy covers tools and equipment that may be owned, rented, leased, or borrowed—and keeps contractors on the job.
Potential eligible customers include:
Contractors (all types)
Municipalities
Manufacturers
Wholesalers
Distributors
Terminal operators
Hanover Marine's contractor's equipment forms provide broad coverage options for tools and mobile machinery and equipment, including:
Equipment leased or rented from others
Equipment loaned, leased or rented to others
Equipment borrowed from others
Waterborne equipment coverage available
Income coverage
At The Hanover, we know the value of comprehensive protection. Our Hanover Contractor's Equipment Advantage solution protects against the unique risks faced by your clients. Unlock the Hanover advantage.
More options for more businesses
We are a top 10 Marine writer with tailored coverage options for tools and mobile machinery and equipment. Additionally, we have the ability to develop programs for all types of homogeneous groups with similar coverage needs, from start-ups and established programs to small, mid-size and large programs and accounts.
Online quote and issuance
To complement our marine underwriter's personal services, our TAP Sales quote-and issue-platform makes it easy to rate and issue contractor's equipment policies in real time and in one easy transaction. And our annual adjustment form reduces the need for endorsements.
.
Significant experience
We have marine specialists and portfolio underwriters in local markets, all supported by regional experts.
Risk solutions experts
In-house risk management consultants located in every region and are well-versed in local, state and federal regulatory guidelines and laws to ensure compliance.
Dedicated claims professionals
Our experienced marine claims staff has a proven record of successful claims handling, including 24-hour claims response and quick turnaround on payments.
Trusted partner
We offer the support and strength of a leading insurance carrier with "A" ratings from A.M. Best, S&P and Moody's.
Product resources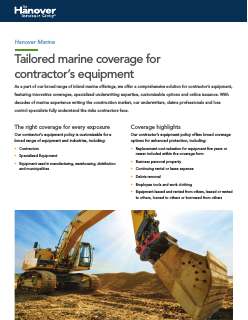 Contractor's equipment overview
This brochure summarizes the tailored coverage we offer for contractor's equipment.
Let's start a conversation
Contact a member of our team to learn more about our coverage and services.