When you have a claim, we'll provide the expertise, guidance and tools to make things as easy as possible for you and your family or business. Day in and day out, our skilled claims professionals help us deliver on this promise — getting people back on the road, back into their homes and back to business after the unexpected occurs. Depending on the specifics of your claim, we may interact through self-service digital or virtual options, onsite visits and/or through trusted vendor partners. We'll be with you every step of the way. 
9 out of 10
customers with a home, business or auto claim* are likely to recommend The Hanover to a colleague, family member or friend
*refers to customers with a paid claim
24/7
access to real people when you need to report the unexpected
Self-service
A variety of digital and virtual optons for a speedy, convenient resolution
Convenience
Potential for same-day payment once your claim is resolved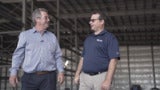 I tell everyone to get Hanover Insurance. I couldn't have pulled this off without them.
Rick Buck, Oregon
Policyholders
Log in or create a My Hanover Policy account to report your claim or monitor an existing claim.
Why use My Hanover Policy?
Manage your policy anywhere, anytime with My Hanover Policy. Once signed up, you'll have:
Fast claim filing and tracking
Options to receive text updates
Easy access to ID cards, policy documents and contact information
You may also choose to report your claim by...
† Source: The Hanover Customer Satisfaction Survey. Coverage underwritten by The Hanover Insurance Company or one of its insurance company subsidiaries or affiliates ("The Hanover"). This material is provided for informational purposes only.