Ready to get on the water with a new boat? We're ready to help you set sail with the right insurance.
Take a look at our coverage options to make sure you have the proper protection you need on board.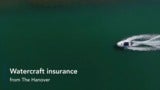 Stay afloat - insure your boat
Talk to an agent
Our independent agent partners are equipped to help you navigate the insurance process as you purchase a new watercraft or put your boat on the water.
Claims
Claims
Our claims professionals are subject matter experts that are available 24/7 should you need our assistance in the unforunate event of a claim, both on and off the water.
Partners in protection
Partners in protection
We want to provide you with the best service and protection. That's why we partner with high-quality service providers and extend their services to you – with special pricing and benefits.