Jewelers block coverage from The Hanover
Hanover jewelers block merges top quality coverage with expertise in underwriting and risk management services and experienced claims support. The Hanover's jewelers block policy is completely customizable to meet unique risks and exposures of these complex businesses. We have a proven track record, and have been writing this specialized business since 1958.
The Hanover's jewelers block target appetite includes:
Contractors
Designers
Loose stone dealers
Manufacturers
Refiners
Retailers
Watch dealers
Wholesalers
Highlights of The Hanover's jewelers block coverage include:
Coverage for owned jewelry stock
Coverage for jewelry stock owned by others
Jewelry stock off your premises in the custody of other jewelry dealers
Shipping coverages
Coverage for traveling with jewelry stock
Appraisal liability coverage
Employee dishonesty coverage
Workmanship coverage
At The Hanover, we know the value of comprehensive protection. Hanover Jewelers Block Advantage protects against the unique risks faced by your clients. Unlock the Hanover Advantage.
Top 10 marine writer
Top 10 marine writer with an extensive portfolio of inland and ocean marine offerings
Local expertise
Marine specialists and portfolio underwriters in local markets with significant authority
All shapes and sizes
Developing programs for all profiles, from start-ups and established programs to small, mid-size and large programs and accounts
In-house risk experience
Consultants in every region are well-versed in local, state and federal regulatory guidelines and laws to ensure compliance
Responsive claims
Dedicated marine claims staff with proven record of successful claims handling, including 24-hour claims response and quick turnaround on payments
A-rated carrier
Financial strength of a leading insurance carrier with "A" ratings from A.M. Best, S&P and Moody's
Product resources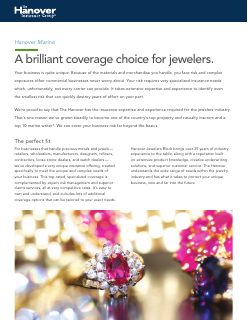 Jewelers block coverage and product overview
Learn about The Hanover's coverage and services specifically designed to meet the needs of jewelers.
Resources for you
Total Hanover solution
Offer clients an account-focused solution by pairing jewelers block coverage with a specialized industry solution offering.
Let's start a conversation
Contact a member of our team who can help you deliver tailored solutions for your clients.

Susan Turner 
Underwriter, Marine Jewelers Block
732-805-2383 
suturner@hanover.com