Making a life change is exciting, but it can be overwhelming. With our help, you can take the next step in your life knowing you have the proper protection in place – and a partner by your side. Whether you are moving out to rent an apartment or purchase a home, check out our coverage options to see what works for you and your situation.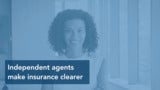 Coverage to fit your lifestyle
Talk with an agent
Contact one of our independent insurance agents to help ensure you and your belongings are protected as you enter a new stage of life. 
Here for you at any stage
Partners in protection
Partners in protection
We want to provide you with the best service and protection. That's why we partner with high-quality service providers and extend their services to you – with special pricing and benefits. 
Claims
Claims
In the unfortunate event of a claim, our claims professionals are available to help you through the process 24/7.