Looking for a new ride, or looking to sell an old one? We can help keep you and your vehicle protected on the road. Take a look at our coverage options.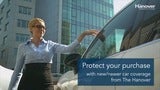 Hit the road with the right coverage 
Platinum Auto
Platinum Auto
You can be fully covered with our base car insurance policy, featuring many additional options to fit your needs, no matter what life stage you are in.
Learn more
New/newer car replacement 
New/newer car replacement 
What if your car gets totaled in an accident? The amount of insurance coverage you receive equal the value of the car at the time of the accident and not the full replacement cost of the same vehicle new. We offer ways to help you avoid paying out of pocket.
Learn more
Loan/lease payoff
Loan/lease payoff
We've got you covered when a vehicle* sustains a total loss and there is a loss payee or lien holder on the vehicle. Comprehensive and collision coverage is required.
*Coverage is not available for motor homes or trailers.
Original equipment manufacturer (OEM) parts
Original equipment manufacturer (OEM) parts
We offer original replacement parts for your damaged car, from the manufacturer, for the current and previous two model years of your vehicle. Don't settle for used or lower quality parts.
Learn more
Rental upgrade
Rental upgrade
With a rental coverage upgrade endorsement, you can choose what kind of rental vehicle you prefer, like a luxury car or large SUV.
Prestige Auto
Prestige Auto
This is our high-performance coverage, engineered for customers who see their cars not just as transportation, but a reflection of their lifestyle. We'll keep you driving in style. 
Learn more
Talk to an agent
Our experienced independent agent partners can help you take the next steps in insuring your new vehicle. 
Services to help keep you protected
Partners in protection
Partners in protection
We have connections with high-quality service providers to provide you with even more benefits to insuring your vehicle with us. And, our partnership with National Car Rental might just be the service you need. 
Claims
Claims
In the unfortunate event of a claim, our claims professionals are available to help you through the process 24/7.