Buying your first motorcycle
The open road is calling. The Hanover can help you answer it back with many coverage options to help match a motorcycle policy with your lifestyle. 
The Hanover offers coverage for a variety of motorcycle styles - and has options to bundle coverage with home and auto to help you save money. Plus, you'll get peace of mind for protecting you - and your ride.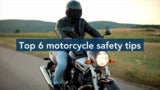 Ride with insured confidence
Talk to an agent
Our independent agent partners have the experience to help you through the insurance process as you purchase a new motorcycle.
Safety always rides with us
Claims
Claims
Our claims professionals are subject matter experts that are available 24/7 if you need assistance in the event your ride needs a claim.
Partners in protection
Partners in protection
Protection. Service. When you're riding with us, we strive to deliver both. We partner with high-quality service providers and extend their services to you – with special pricing and benefits to help us keep you and your home safe.