Contact a Hanover agent for a quote or more information.
Independent agents make insurance better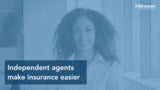 The Hanover sells policies exclusively through independent insurance agents and has done so for more than 165 years. We believe agents help tailor the best combination of coverage, value and price for individuals, families and businesses.