Added protection for your customers
Umbrella coverage from The Hanover
A Hanover umbrella policy provides additional protection for your customers by extending their home or auto policy liability limits. Benefits of umbrella coverage from The Hanover include: 
Limits from $1M to $10M, varying by state
Worldwide coverage available
Protection starting as low as $20/month
The convenience of prefilled customer information when quoting in TAP Sales
Product offering
The Hanover's umbrella coverage offers protection options starting at $1 million, with options up to $10 million, for:
The cost of a customer's defense when/if they are sued for libel, slander, invasion of privacy, malicious prosecution, defamation of character, or discrimination
Bodily injury, property damage and personal liability
Additional uninsured/underinsured motorist coverage is also available, with options up to $2 million. We also offer coverage for non-owned autos.
Umbrella
From $1M to $10M
Uninsured/underinsured motorist
Options up to $2M
Coverage not available in all states and limits may vary. Please refer to your agent guides for more details.  
Umbrella resources
Find these resources and more in the umbrella section of TAP Marketing.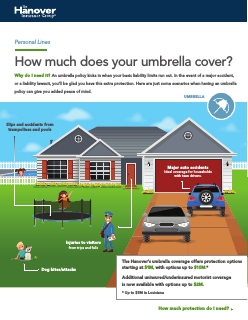 $10 million umbrella infographic
Learn about the scope and value of The Hanover's umbrella coverage $10 million limits.
Questions about umbrella coverage?
Contact your underwriter for more information.